Description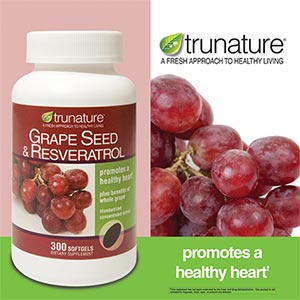 ●제품설명:
포도와 포도씨의 추출물과 레스베라트롤  함유.
포도씨 추출물의 주요 지방산에는 성인병에 도움이 되는  오메가-3 & 6 그리고 토코페롤이 다른 추출물들보다
많이 들어 있습니다.
●복용법:하루 1정 또는 2정씩 음식과 함께 복용하십시요.
●주의사항:어린이의 손이 닿지 않는 곳에 보관하세요; 서늘하고 건조한곳에 보관하세요.
*본제품은 특정 질병에 대한 진단, 치료를 위한 의약품이 아닌 건강보조식품입니다.
 의사의 처방전을 받고 계신경우(혈압,건강포함), 임신, 수유중인경우, 어린이의 경우 섭취전 담당의사
 분께 상담을 권장합니다.
Grape Seed Extract with Whole Grape has more antioxidant activity than Grape Seed
alone, and is one of the richest sources of proanthocyanidins, antioxidants that may
limit damage from free radicals and help to keep artery walls flexible, an important part
of circulatory system well-being. Also contains Resvida resveratrol the purest form
of resveratrol available to help promote a healthy heart.
Suggested Use
Take one softgel two times daily, preferably with a meal.
Supplement Facts
Serving Size: 1 Softgel
Each Softgel Contains – % Daily Value:
Grape Seed Extract (Vitis vinifera) (seed) (standardized to 85% [85 mg] polyphenols)
100 mg , Grape Skin Extract (Vitis vinifera) (skin) (standardized to 45% [17 mg]
proanthocyanidins) 37.5 mg, Grape Extract (Vitis vinifera)(whole fruit) 12.5 mg,
Resvida Resveratrol 15 mg.
Ingredients
Sunflower Oil, Gelatin, Grape Seed Extract, Purified Water, Glycerin, Grape Skin Extract,
Monoglycerides, Resveratrol, Grape Extract, Lecithin (from soy), Yellow Beeswax,
Caramel Powder, and Titanium Dioxide.
Warning
Pregnant or nursing women and individuals currently taking any medication or have an
underlying health condition should consult their physician before using this product.
Keep out of the reach of children.